Mi-Wave's 770 Trihedral corner reflector antennas consists of a circular scalar feed horn illuminating a piano-convex lens. The trihedral corner reflector antennas simulates radar target precisely and is widely used for Radar system calibration. We know you need and demand the absolute best when it comes to trihedral antennas and we look to provide you with the best solutions possible. Some of the highlights of our corner reflectors are:
Features
• 8.4 to 260 Ghz Available
• Low Cost
• High Directivity and Gain
• Simple Mechanical Performance
• Wide Range of Available Beamwidths and Reflector Sizes
Applications
• Radars
• Test Chambers
• Surveillance Equipment
• Communication Systems
*All data presented is collected from a sample lot.
* Actual data may vary unit to unit, slightly.
*All testing was performed under +25 °C case temperature.
*Consult factory to confirm if material, plating, size, shape, orientation and any electrical parameter is critical for the application as website information is for reference only.
*Millimeter Wave Products, Inc. reserves the right to change the information presented on website without notice as we continue to enhance the performance and design of our products.
Outlines & Drawings
Find your band and view outlines, drawings, data & more.
Trihedral Corner Reflector Antennas

If you are looking for quality built trihedral antennas, then use  Millimeter wave products Inc. We we specialize in manufacturing the highest quality standard corner reflector antennas for many needs.
The 770 Series trihedral antennas are available from 8 to 260 GHz in standard sizes of 1.4 to 8 inch configurations. We can manufacture to any custom size or specification, please consult Mi-Wave for further information.
Select Your Frequency Band
Our trihedral corner reflector antennas are available in the following RF bands.
X Band | 8.2 GHz to 12.4 GHz
Xs Band | 10 GHz to 15 GHz
Ku Band | 12.4 GHz to 18 GHz
K Band | 18 GHz to 26.5 GHz
WR-34 | 22 GHz to 33 GHz
Ka Band | 26.5 GHz to 40 GHz
Q Band | 33 GHz to 50 GHz
U Band | 40 GHz to 60 GHz
V Band | 50 GHz to 75 GHz
E Band | 60 GHz to 90 GHz
W Band | 75 GHz to 110 GHz
F Band | 90 GHz to 140 GHz
D Band | 110 GHz to 170 GHz
G Band | 140 GHz to 220 GHz
H Band | 170 GHz to 260 GHz
Frequently Asked Questions for trihedral corner reflector antennas.
A corner reflector is a passive device used to reflect radio waves back toward the transmit source. Therefore, the corner reflector is a useful device for radar system calibration and testing. The corner reflector is made of intersected perpendicular plates. The most common type of corner reflectors are dihedral and trihedral.
The dihedral corner reflectors can be sensitive to its mechanical alignment so more can issues can occur while the trihedral corner reflect is much more tolerant to being misaligned. This offers an easy way for quick field setup and calibration when needed. The trihedral corner reflector is made from three right angles which is illustrated in the image below.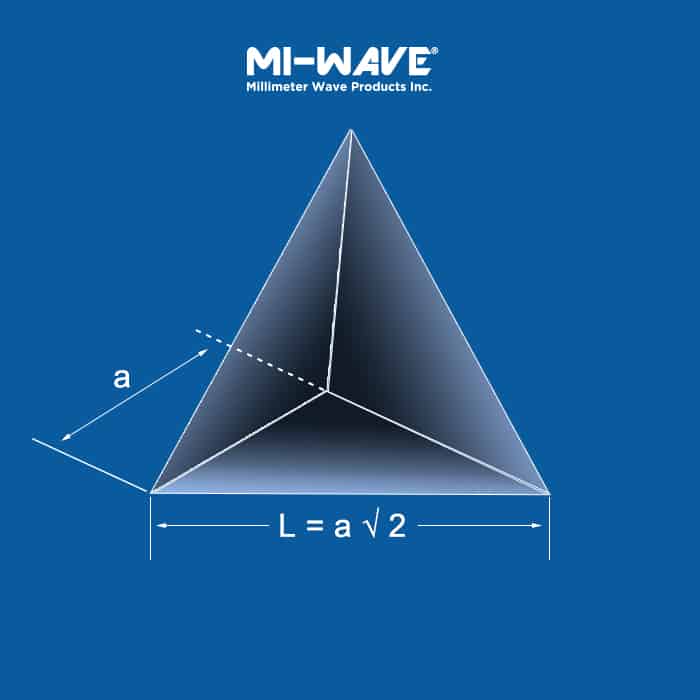 The effective area is calculated by:


Where "a" is the side length of the trihedral.
The effective radar cross section is calculated by:


Where λ is the wavelength of the radar signal.
In trihedral corner reflectors, the radio waves that hit the corner reflector are bounced by each surface area, three times total to result in a reversed wave that sends back towards the source. Because of this, the trihedral corner reflectors give a high Radar Cross Section or "RCS" target for radar system testing, calibration and data for your application.
Millimeter Wave Products Inc. (Mi-Wave) offers standard trihedral corner reflectors with the sizes from 1.8" to 16". We can also manufacture custom sizes upon request. Consult with our sales engineers today.
This will depend on many factors like:
-Size of Trihedral Reflector
-Quantity of Order
-Custom needs (Logo imprints,etching,special characteristics)
-Turnaround Time (Rush, Standard, 90/180 Day etc)
Please consult with our sales engineers today.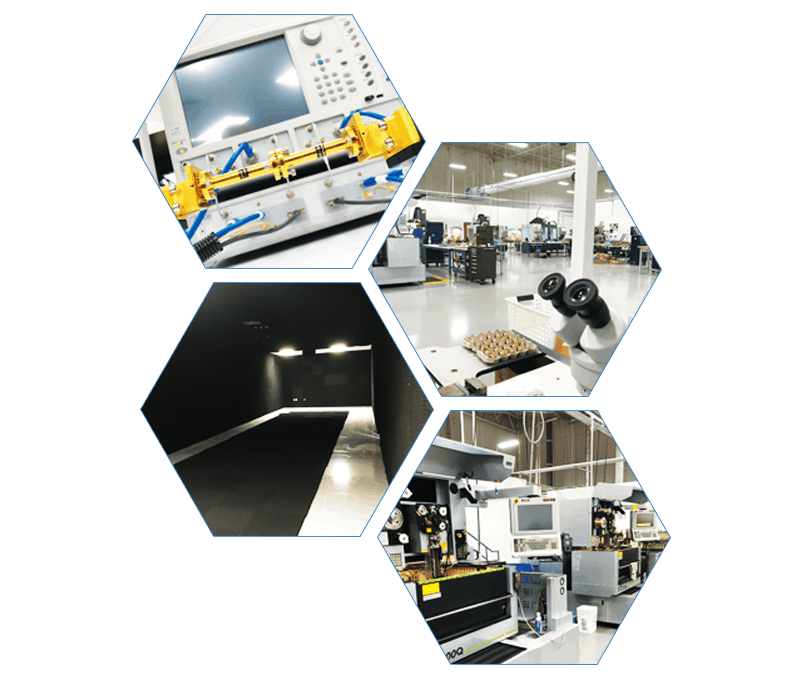 How to Order & Custom Products
As the manufacturing source, we have top sales engineers ready to answer all your questions and quote you on product needs. You'll find our prices are some of the best since we manufacture all our millimeter wave products in house.
Have a custom job or unique need? No problem! Contact us so we can work on solutions to meet your needs.
2007 Gandy Blvd N
Suite 1310
St. Petersburg, FL 33702
Tel: 727-563-0034
Fax: 727-563-0031
Email: [email protected]