Mi-Wave's 561 Series Broadband Directional Couplers are broadwall mulit-hole energy-coupling devices. The 561 Series devices are available in various waveguide sizes ranging in frequency from 18.0 to 500 GHz.
• Full band Operation
• Compact Sizes
• Low VSWR
• Rugged Construction
• Measurement Systems
• Transmitter Applications / Dummy Loads
• Satellite
• Microwave Radio
• Source Leveling
• 5G & 6G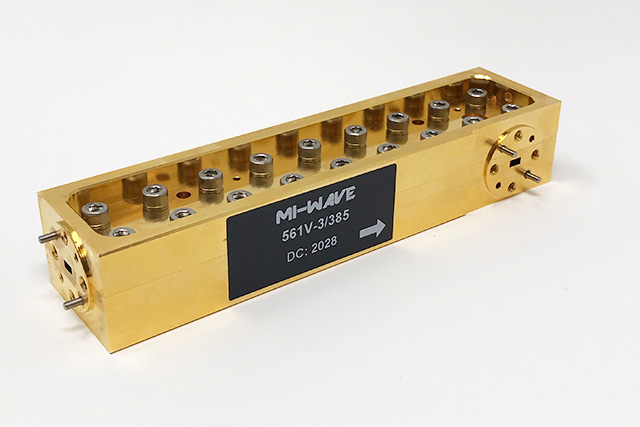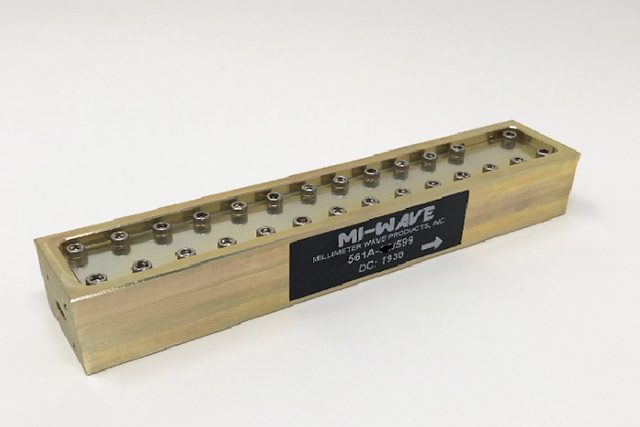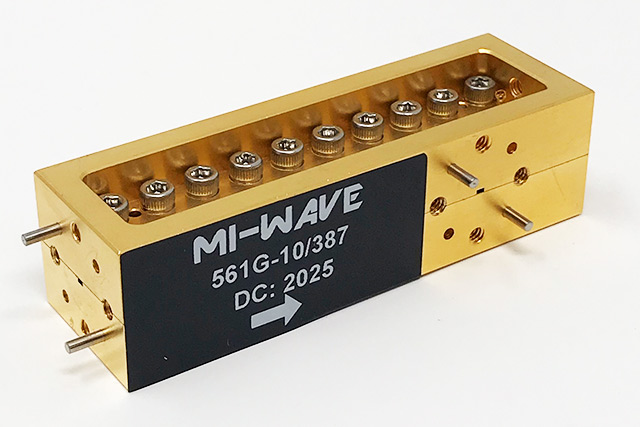 Note: Our website contains just a few types of  Couplers we build. Consult with us for your specific needs.
| Model Number | Frequency min. (GHz) | Frequency max. (GHz) | Coupling (dB) | Directivity (dB) | Insertion Loss (dB) typical | Main Line VSWR max. | Auxiliary Line VSWR max. | Input Port | Output Port | LINK |
| --- | --- | --- | --- | --- | --- | --- | --- | --- | --- | --- |
| 561A-3/599 | 26.5 | 40 | 3 | 35 | 0.4 | 1.05:1 | 1.12:1 | WR-28 Waveguide, UG-595/U Square Flange | WR-28 Waveguide, UG-595/U Square Flange | |
| 561A-6/599 | 26.5 | 40 | 6 | 35 | 0.4 | 1.05:1 | 1.12:1 | WR-28 Waveguide, UG-595/U Square Flange | WR-28 Waveguide, UG-595/U Square Flange | |
| 561A-10/599 | 26.5 | 40 | 10 | 35 | 0.4 | 1.05:1 | 1.12:1 | WR-28 Waveguide, UG-595/U Square Flange | WR-28 Waveguide, UG-595/U Square Flange | |
| 561A-20/599 | 26.5 | 40 | 20 | 35 | 0.4 | 1.05:1 | 1.12:1 | WR-28 Waveguide, UG-595/U Square Flange | WR-28 Waveguide, UG-595/U Square Flange | |
| 561A-30/599 | 26.5 | 40 | 30 | 35 | 0.4 | 1.05:1 | 1.12:1 | WR-28 Waveguide, UG-595/U Square Flange | WR-28 Waveguide, UG-595/U Square Flange | |
| 561A-40/599 | 26.5 | 40 | 40 | 35 | 0.4 | 1.05:1 | 1.12:1 | WR-28 Waveguide, UG-595/U Square Flange | WR-28 Waveguide, UG-595/U Square Flange | |
| 561B-3/383 | 33 | 50 | 3 | 35 | 0.5 | 1.05:1 | 1.12:1 | WR-22 Waveguide, UG-383/U Round Flange | WR-22 Waveguide, UG-383/U Round Flange | |
| 561B-6/383 | 33 | 50 | 6 | 35 | 0.5 | 1.05:1 | 1.12:1 | WR-22 Waveguide, UG-383/U Round Flange | WR-22 Waveguide, UG-383/U Round Flange | |
| 561B-10/383 | 33 | 50 | 10 | 35 | 0.5 | 1.05:1 | 1.12:1 | WR-22 Waveguide, UG-383/U Round Flange | WR-22 Waveguide, UG-383/U Round Flange | |
| 561B-20/383 | 33 | 50 | 20 | 35 | 0.5 | 1.05:1 | 1.12:1 | WR-22 Waveguide, UG-383/U Round Flange | WR-22 Waveguide, UG-383/U Round Flange | |
| 561B-30/383 | 33 | 50 | 30 | 35 | 0.5 | 1.05:1 | 1.12:1 | WR-22 Waveguide, UG-383/U Round Flange | WR-22 Waveguide, UG-383/U Round Flange | |
| 561B-40/383 | 33 | 50 | 40 | 35 | 0.5 | 1.05:1 | 1.12:1 | WR-22 Waveguide, UG-383/U Round Flange | WR-22 Waveguide, UG-383/U Round Flange | |
| 561U-3/383 | 40 | 60 | 3 | 35 | 0.6 | 1.05:1 | 1.12:1 | WR-19 Waveguide, UG-383/U-M Round Flange | WR-19 Waveguide, UG-383/U-M Round Flange | |
| 561U-6/383 | 40 | 60 | 6 | 35 | 0.6 | 1.05:1 | 1.12:1 | WR-19 Waveguide, UG-383/U-M Round Flange | WR-19 Waveguide, UG-383/U-M Round Flange | |
| 561U-10/383 | 40 | 60 | 10 | 35 | 0.6 | 1.05:1 | 1.12:1 | WR-19 Waveguide, UG-383/U-M Round Flange | WR-19 Waveguide, UG-383/U-M Round Flange | |
| 561U-20/383 | 40 | 60 | 20 | 35 | 0.6 | 1.05:1 | 1.12:1 | WR-19 Waveguide, UG-383/U-M Round Flange | WR-19 Waveguide, UG-383/U-M Round Flange | |
| 561U-30/383 | 40 | 60 | 30 | 35 | 0.6 | 1.05:1 | 1.12:1 | WR-19 Waveguide, UG-383/U-M Round Flange | WR-19 Waveguide, UG-383/U-M Round Flange | |
| 561U-40/383 | 40 | 60 | 40 | 35 | 0.6 | 1.05:1 | 1.12:1 | WR-19 Waveguide, UG-383/U-M Round Flange | WR-19 Waveguide, UG-383/U-M Round Flange | |
| 561U-50/383 | 40 | 60 | 50 | 35 | 0.6 | 1.05:1 | 1.12:1 | WR-19 Waveguide, UG-383/U-M Round Flange | WR-19 Waveguide, UG-383/U-M Round Flange | |
| 561V-3/385 | 50 | 75 | 3 | 35 | 0.7 | 1.10:1 | 1.15:1 | WR-15 Waveguide, UG-383/U Round Flange | WR-15 Waveguide, UG-383/U Round Flange | |
| 561V-6/385 | 50 | 75 | 6 | 35 | 0.7 | 1.10:1 | 1.15:1 | WR-15 Waveguide, UG-383/U Round Flange | WR-15 Waveguide, UG-383/U Round Flange | |
| 561V-10/385 | 50 | 75 | 10 | 35 | 0.7 | 1.10:1 | 1.15:1 | WR-15 Waveguide, UG-383/U Round Flange | WR-15 Waveguide, UG-383/U Round Flange | |
| 561V-20/385 | 50 | 75 | 20 | 35 | 0.7 | 1.10:1 | 1.15:1 | WR-15 Waveguide, UG-383/U Round Flange | WR-15 Waveguide, UG-383/U Round Flange | |
| 561V-30/385 | 50 | 75 | 30 | 35 | 0.7 | 1.10:1 | 1.15:1 | WR-15 Waveguide, UG-383/U Round Flange | WR-15 Waveguide, UG-383/U Round Flange | |
| 561V-40/385 | 50 | 75 | 40 | 35 | 0.7 | 1.10:1 | 1.15:1 | WR-15 Waveguide, UG-383/U Round Flange | WR-15 Waveguide, UG-383/U Round Flange | |
| 561E-3/387 | 60 | 90 | 3 | 35 | 1 | 1.10:1 | 1.15:1 | WR-12 Waveguide, UG-387/U Round Flange | WR-12 Waveguide, UG-387/U Round Flange | |
| 561E-6/387 | 60 | 90 | 6 | 35 | 1 | 1.10:1 | 1.15:1 | WR-12 Waveguide, UG-387/U Round Flange | WR-12 Waveguide, UG-387/U Round Flange | |
| 561E-10/387 | 60 | 90 | 10 | 35 | 1 | 1.10:1 | 1.15:1 | WR-12 Waveguide, UG-387/U Round Flange | WR-12 Waveguide, UG-387/U Round Flange | |
| 561E-20/387 | 60 | 90 | 20 | 35 | 1 | 1.10:1 | 1.15:1 | WR-12 Waveguide, UG-387/U Round Flange | WR-12 Waveguide, UG-387/U Round Flange | |
| 561E-30/387 | 60 | 90 | 30 | 35 | 1 | 1.10:1 | 1.15:1 | WR-12 Waveguide, UG-387/U Round Flange | WR-12 Waveguide, UG-387/U Round Flange | |
| 561E-40/387 | 60 | 90 | 40 | 35 | 1 | 1.10:1 | 1.15:1 | WR-12 Waveguide, UG-387/U Round Flange | WR-12 Waveguide, UG-387/U Round Flange | |
| 561W-3/387 | 75 | 110 | 3 | 35 | 1 | 1.10:1 | 1.15:1 | WR-10 Waveguide, UG-387/U-M Round Flange | WR-10 Waveguide, UG-387/U-M Round Flange | |
| 561W-6/387 | 75 | 110 | 6 | 35 | 1 | 1.10:1 | 1.15:1 | WR-10 Waveguide, UG-387/U-M Round Flange | WR-10 Waveguide, UG-387/U-M Round Flange | |
| 561W-10/387 | 75 | 110 | 10 | 35 | 1 | 1.10:1 | 1.15:1 | WR-10 Waveguide, UG-387/U-M Round Flange | WR-10 Waveguide, UG-387/U-M Round Flange | |
| 561W-20/387 | 75 | 110 | 20 | 35 | 1 | 1.10:1 | 1.15:1 | WR-10 Waveguide, UG-387/U-M Round Flange | WR-10 Waveguide, UG-387/U-M Round Flange | |
| 561W-30/387 | 75 | 110 | 30 | 35 | 1 | 1.10:1 | 1.15:1 | WR-10 Waveguide, UG-387/U-M Round Flange | WR-10 Waveguide, UG-387/U-M Round Flange | |
| 561W-40/387 | 75 | 110 | 40 | 35 | 1 | 1.10:1 | 1.15:1 | WR-10 Waveguide, UG-387/U-M Round Flange | WR-10 Waveguide, UG-387/U-M Round Flange | |
| 561F-3/387 | 90 | 140 | 3 | 25 | 1.5 | 1.10:1 | 1.17:1 | WR-08 Waveguide, UG-387/U-M Round Flange | WR-08 Waveguide, UG-387/U-M Round Flange | |
| 561F-6/387 | 90 | 140 | 6 | 25 | 1.5 | 1.10:1 | 1.17:1 | WR-08 Waveguide, UG-387/U-M Round Flange | WR-08 Waveguide, UG-387/U-M Round Flange | |
| 561F-10/387 | 90 | 140 | 10 | 25 | 1.5 | 1.10:1 | 1.17:1 | WR-08 Waveguide, UG-387/U-M Round Flange | WR-08 Waveguide, UG-387/U-M Round Flange | |
| 561F-20/387 | 90 | 140 | 20 | 25 | 1.5 | 1.10:1 | 1.17:1 | WR-08 Waveguide, UG-387/U-M Round Flange | WR-08 Waveguide, UG-387/U-M Round Flange | |
| 561F-30/387 | 90 | 140 | 30 | 25 | 1.5 | 1.10:1 | 1.17:1 | WR-08 Waveguide, UG-387/U-M Round Flange | WR-08 Waveguide, UG-387/U-M Round Flange | |
| 561F-40/387 | 90 | 140 | 40 | 25 | 1.5 | 1.10:1 | 1.17:1 | WR-08 Waveguide, UG-387/U-M Round Flange | WR-08 Waveguide, UG-387/U-M Round Flange | |
| 561G-3/387 | 140 | 220 | 3 | 25 | 1.5 | 1.15:1 | 1.20:1 | WR-06 Waveguide, UG-387/U-M Round Flange | WR-06 Waveguide, UG-387/U-M Round Flange | |
| 561G-6/387 | 140 | 220 | 6 | 25 | 1.5 | 1.15:1 | 1.20:1 | WR-06 Waveguide, UG-387/U-M Round Flange | WR-06 Waveguide, UG-387/U-M Round Flange | |
| 561G-10/387 | 140 | 220 | 10 | 25 | 1.5 | 1.15:1 | 1.20:1 | WR-06 Waveguide, UG-387/U-M Round Flange | WR-06 Waveguide, UG-387/U-M Round Flange | |
| 561G-20/387 | 140 | 220 | 20 | 25 | 1.5 | 1.15:1 | 1.20:1 | WR-06 Waveguide, UG-387/U-M Round Flange | WR-06 Waveguide, UG-387/U-M Round Flange | |
| 561G-30/387 | 140 | 220 | 30 | 25 | 1.5 | 1.15:1 | 1.20:1 | WR-06 Waveguide, UG-387/U-M Round Flange | WR-06 Waveguide, UG-387/U-M Round Flange | |
| 561G-40/387 | 140 | 220 | 40 | 25 | 1.5 | 1.15:1 | 1.20:1 | WR-06 Waveguide, UG-387/U-M Round Flange | WR-06 Waveguide, UG-387/U-M Round Flange | |
| 561H-3/387 | 170 | 260 | 3 | 25 | 3.5 | 1.15:1 | 1.20:1 | WR-04 Waveguide, UG-387/U-M Round Flange | WR-04 Waveguide, UG-387/U-M Round Flange | |
| 561H-6/387 | 170 | 260 | 6 | 25 | 3.5 | 1.15:1 | 1.20:1 | WR-04 Waveguide, UG-387/U-M Round Flange | WR-04 Waveguide, UG-387/U-M Round Flange | |
| 561H-10/387 | 170 | 260 | 10 | 25 | 3.5 | 1.15:1 | 1.20:1 | WR-04 Waveguide, UG-387/U-M Round Flange | WR-04 Waveguide, UG-387/U-M Round Flange | |
| 561H-20/387 | 170 | 260 | 20 | 25 | 3.5 | 1.15:1 | 1.20:1 | WR-04 Waveguide, UG-387/U-M Round Flange | WR-04 Waveguide, UG-387/U-M Round Flange | |
| 561H-30/387 | 170 | 260 | 30 | 25 | 3.5 | 1.15:1 | 1.20:1 | WR-04 Waveguide, UG-387/U-M Round Flange | WR-04 Waveguide, UG-387/U-M Round Flange | |
| 561H-40/387 | 170 | 260 | 40 | 25 | 3.5 | 1.15:1 | 1.20:1 | WR-04 Waveguide, UG-387/U-M Round Flange | WR-04 Waveguide, UG-387/U-M Round Flange | |
| 561J-3/387 | 220 | 325 | 3 | 25 | 6.0 | 1.25:1 | 1.32:1 | WR-03 Waveguide, UG-387/U-M Rond Flange | WR-03 Waveguide, UG-387/U-M Rond Flange | |
| 561J-6/387 | 220 | 325 | 6 | 25 | 6.0 | 1.25:1 | 1.32:1 | WR-03 Waveguide, UG-387/U-M Rond Flange | WR-03 Waveguide, UG-387/U-M Rond Flange | |
| 561J-10/387 | 220 | 325 | 10 | 25 | 6.0 | 1.25:1 | 1.32:1 | WR-03 Waveguide, UG-387/U-M Rond Flange | WR-03 Waveguide, UG-387/U-M Rond Flange | |
| 561J-20/387 | 220 | 325 | 20 | 25 | 6.0 | 1.25:1 | 1.32:1 | WR-03 Waveguide, UG-387/U-M Rond Flange | WR-03 Waveguide, UG-387/U-M Rond Flange | |
| 561J-30/387 | 220 | 325 | 30 | 25 | 6.0 | 1.25:1 | 1.32:1 | WR-03 Waveguide, UG-387/U-M Rond Flange | WR-03 Waveguide, UG-387/U-M Rond Flange | |
| 561J-40/387 | 220 | 325 | 40 | 25 | 6.0 | 1.25:1 | 1.32:1 | WR-03 Waveguide, UG-387/U-M Rond Flange | WR-03 Waveguide, UG-387/U-M Rond Flange | |
| 561(2.2)-3/387 | 330 | 500 | 3 | 25 | 6.0 | 1.25:1 | 1.32:1 | WR-2.2 Waveguide, UG-387/U-M Round Flange | WR-2.2 Waveguide, UG-387/U-M Round Flange | |
| 561(2.2)-6/387 | 330 | 500 | 6 | 25 | 6.0 | 1.25:1 | 1.32:1 | WR-2.2 Waveguide, UG-387/U-M Round Flange | WR-2.2 Waveguide, UG-387/U-M Round Flange | |
| 561(2.2)-10/387 | 330 | 500 | 10 | 25 | 6.0 | 1.25:1 | 1.32:1 | WR-2.2 Waveguide, UG-387/U-M Round Flange | WR-2.2 Waveguide, UG-387/U-M Round Flange | |
| 561(2.2)-20/387 | 330 | 500 | 20 | 25 | 6.0 | 1.25:1 | 1.32:1 | WR-2.2 Waveguide, UG-387/U-M Round Flange | WR-2.2 Waveguide, UG-387/U-M Round Flange | |
| 561(2.2)-30/387 | 330 | 500 | 30 | 25 | 6.0 | 1.25:1 | 1.32:1 | WR-2.2 Waveguide, UG-387/U-M Round Flange | WR-2.2 Waveguide, UG-387/U-M Round Flange | |
| 561(2.2)-40/387 | 330 | 500 | 40 | 25 | 6.0 | 1.25:1 | 1.32:1 | WR-2.2 Waveguide, UG-387/U-M Round Flange | WR-2.2 Waveguide, UG-387/U-M Round Flange | |