Description:
Mi-Wave's 561(2.2)-30/387 Broadband Directional Coupler is broadwall-multi-hole energy-coupling devices operating in 325 to 500 GHz range. This coupler offers a nominal coupling level of 30 dB.
• Full band Operation
• Compact Sizes
• Low VSWR
• Rugged Construction
• Measurement Systems
• Transmitter Applications / Dummy Loads
• Satellite
• Microwave Radio
• Source Leveling
• 5G & 6G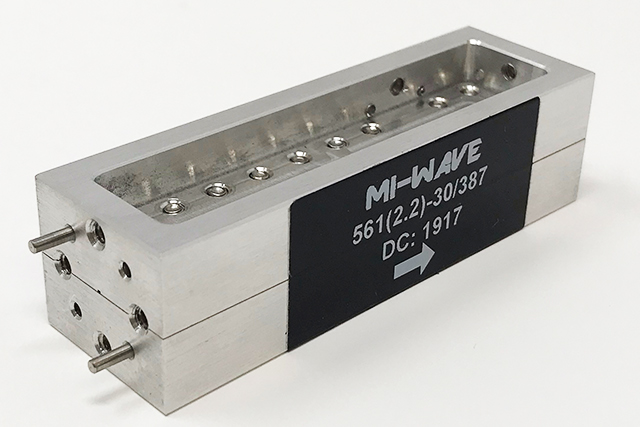 *All data presented is collected from a sample lot.
* Actual data may vary unit to unit, slightly.
*All testing was performed under +25 °C case temperature.
*Consult factory to confirm if material, plating, size, shape, orientation and any electrical parameter is critical for the application as website information is for reference only.
*Millimeter Wave Products, Inc. reserves the right to change the information presented on website without notice as we continue to enhance the performance and design of our products.
WR-2.2 Block Type Directional Couplers
Our WR-2.2 Block Type Directional Couplers are for the spectrum in the millimeter wave range of frequencies from 325 to 500 gigahertz (GHz).
The 561 Series Directional Couplers provide an efficient and convenient means for sampling a finite quantity of power flowing in a transmission line or for injecting a desired signal into the line.
Note: Our website contains just a few of the type of couplers we build. Consult with us for your specific needs.