Mi-Wave's 257 Series spot focus antennas consists of a circular scalar feed horn illuminating a piano-convex lens. Housed in either aluminum or plastic, these horn lens antennas provide a high efficiency beam with equal E and H plane amplitude patterns.
The 257 Series antennas are available from 8 to 260 GHz in standard sizes of 3, 6, 9, and 12 inch lens apertures. Other custom sizes and configurations are available for our spot focus antennas, please consult Mi-Wave for further information.
Features
• 8.4 to 260 Ghz Available
• Simple Mechanical Performance
• Wide Range of Available Beamwidths and Reflector Size
Applications
• Radar & Telemetry Systems
• Point to Point Communication Systems
*All data presented is collected from a sample lot.
* Actual data may vary unit to unit, slightly.
*All testing was performed under +25 °C case temperature.
*Consult factory to confirm if material, plating, size, shape, orientation and any electrical parameter is critical for the application as website information is for reference only.
*Millimeter Wave Products, Inc. reserves the right to change the information presented on website without notice as we continue to enhance the performance and design of our products.
Outlines & Drawings
Find your band and view outlines, drawings, data & more.
Spot Focus Antennas

If you are looking for spot focus antennas, then you've landed on the right page. At Millimeter wave products Inc. (Mi-Wave) we specialize in manufacturing the highest quality horn lens antennas for many needs.
Our facility can accommodate all your millimeter wave parts and assembly OEM needs. Contact us for more information.
Select Your Frequency Band
Find the frequency band you're interested in for more specific spot focus antennas information.
X Band Spot Focus Antennas | 8.2 GHz to 12.4 GHz
Xs Band Spot Focus Antennas | 10 GHz to 15 GHz
Ku Band Spot Focus Antennas | 12.4 GHz to 18 GHz
K Band Spot Focus Antennas | 18 GHz to 26.5 GHz
WR-34 Spot Focus Antennas | 22 GHz to 33 GHz
Ka Band Spot Focus Antennas | 26.5 GHz to 40 GHz
Q Band Spot Focus Antennas | 33 GHz to 50 GHz
U Band Spot Focus Antennas | 40 GHz to 60 GHz
V Band Spot Focus Antennas | 50 GHz to 75 GHz
E Band Spot Focus Antennas | 60 GHz to 90 GHz
W Band Spot Focus Antennas | 75 GHz to 110 GHz
F Band Spot Focus Antennas | 90 GHz to 140 GHz
D Band Spot Focus Antennas | 110 GHz to 170 GHz
G Band Spot Focus Antennas | 140 GHz to 220 GHz
H Band Spot Focus Antennas | 170 GHz to 260 GHz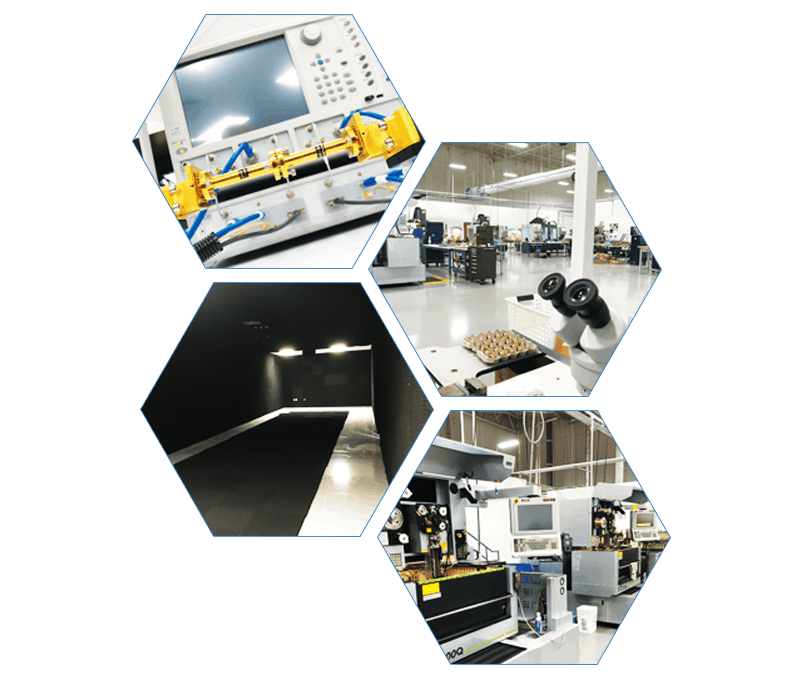 How to Order & Custom Products
As the manufacturing source, we have top sales engineers ready to answer all your questions and quote you on product needs. You'll find our prices are some of the best since we manufacture all our millimeter wave products in house.
Have a custom job or unique need? No problem! Contact us so we can work on solutions to meet your needs.
2007 Gandy Blvd N
Suite 1310
St. Petersburg, FL 33702
Tel: 727-563-0034
Fax: 727-563-0031
Email: [email protected]