Careers at Millimeter Wave Products Inc.
Interested in working for Millimeter Wave Products Inc? We are always looking for top talent. View our current openings below by clicking on the title.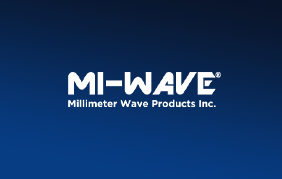 Millimeter Wave Products, Inc. in St. Petersburg, FL is seeking experienced Microwave/Millimeter Wave Engineer to regulate and maintain sub-systems, transceivers, up-converters, down-converters, and overall system design, including tuning and testing.
Individuals will apply advanced theoretical knowledge of Electrical Engineering principles and concepts to perform the following duties:
Work on RF Amplifier (PA's, LNA's, Driver Amp) module design and layout using SMD's and MMIC's.

Execute DC-110GHz Active/Passive Frequency Converter module design.

Perform Microwave and Millimeter Wave micro strip passive circuit design (Filters, Power Combiners, Couplers)

Design control circuits and Regulators with Thin Film and/or PCB approach.

Improve existing Passive Products.

Support existing Production of Millimeter Wave components related to manufacturing, testing and tuning.

Design complex multilayer, high-speed digital, RF and analog boards, using knowledge of board fabrication, assembly and test.

Work with CAD group for mechanical design of new product and/or modification of existing product.

Create technical documents such as Acceptance Test Procedure, along with active involvement in Manufacturing Traveler's.
REQUIREMENTS: Bachelors degree (Master preferred) in Electrical or Electronic Engineering or a related field of study that provided the required knowledge and abilities, and 5+ years of related experience that provided the required skills and abilities.
Any suitable combination of education, training or experience is acceptable. The term suitable, in this context, means substantial compatibility with stated academic level and job experience requirements, and ability to perform job duties.
Additional Information:
Job Site:

2007 Gandy Blvd. N., Suite 1310, St. Petersburg, FL 33702.
Mail Resumes To:

 ATTN: Human Resources, Millimeter Wave Products, Inc., 2007 Gandy Blvd. N., Suite 1310, St. Petersburg, FL 33702.

No calls or emails.  EOE.

Must be legally authorized to work in the United States without sponsorship.
Please forward your resume to [email protected]
Millimeter Wave Products, Inc. (Mi-Wave) has an excellent opportunity for an experienced Wire-bonder. The ideal candidate will have strong knowledge of MMIC assembly, strong small-part mechanical assembly, and an acute eye for detail / quality.
Applicants should have proficiency and detailed experience with the following:
– MMIC die attach using silver epoxy
– Hybrid circuit assemblies using silver epoxy
– Wirebonding: set-up / use of West Bond 7400B series Wire Bonder and use of 0.7 mil gold wire.
– Ball bonding
– Ribbon Gap Welding
– PCB component assemblies
– General microwave/millimeter wave component assemblies
– Reading prints, using QC inspection equipment, microscopes, etc.
Mi-Wave is a leading manufacturer of microwave / millimeter wave components and sub-assemblies used in critical communication systems all over the world. Due to the tight tolerances and sensitive nature of such products, quality is an extremely important factor in our production, assembly, and testing processes. As such, we are looking for an accuracy-first type of mindset in who we hire for any position.
Regular work hours are roughly 8:00 am to 5:00 pm, and we are willing to be flexible with the right candidate.
Compensation is based entirely on experience and capability.
We offer a very clean and safe environment.
Please forward your resume to [email protected]