Note:  Customer can choose any one frequency between this range
Frequency Band(GHz)    8.2-12.4
Waveguide                          WR-90
Power Output (dBm)       up to 30   note: please consult factory for higher power
Waveguide Flange            UG-39
Dimensions                         4.0″ L x 3.0″ W x 1.57″ H
Note:  Customer can choose any one frequency between this range
Frequency Band(GHz)    12.4-18.0
Waveguide                          WR-62
Power Output (dBm)       up to 30   note: please consult factory for higher power
Waveguide Flange            UG-419
Dimensions                         4.0″ L x 3.0″ W x 1.57″ H
Note:  Customer can choose any one frequency between this range
Frequency Band(GHz)    18.0-26.5
Waveguide                           WR-42
Power Output (dBm)       up to 30   note: please consult factory for higher power
Waveguide Flange            UG-595/U
Dimensions                         4.0″ L x 3.0″ W x 1.57″ H
Note:  Customer can choose any one frequency between this range
Frequency Band(GHz)    26.5-40.0
Waveguide                           WR-28
Power Output (dBm)       up to 30   note: please consult factory for higher power
Waveguide Flange            UG-599/U
Dimensions                         4.0″ L x 3.0″ W x 1.57″ H
Note:  Customer can choose any one frequency between this range
Frequency Band(GHz)    33.0-50.0
Waveguide                          WR-22
Power Output (dBm)       up to 30   note: please consult factory for higher power
Waveguide Flange            UG-383/U
Dimensions                         4.0″ L x 3.0″ W x 1.57″ H
Note:  Customer can choose any one frequency between this range
Frequency Band(GHz)    40.0-60.0
Waveguide                          WR-19
Power Output (dBm)       up to 30   note: please consult factory for higher power
Waveguide Flange            UG-383/U-M
Dimensions                         4.0″ L x 3.0″ W x 1.57″ H
Note:  Customer can choose any one frequency between this range
Frequency Band(GHz)    50.0-75.0
Waveguide                          WR-15
Power Output (dBm)       up to 30   note: please consult factory for higher power
Waveguide Flange            UG-385/U
Dimensions                         4.0″ L x 3.0″ W x 1.57″ H
Note:  Customer can choose any one frequency between this range
Frequency Band(GHz)    60.0-90.0
Waveguide                          WR-12
Power Output (dBm)       up to 30   note: please consult factory for higher power
Waveguide Flange            UG-387/U
Dimensions                         4.0″ L x 3.0″ W x 1.57″ H
Note:  Customer can choose any one frequency between this range
Frequency Band(GHz)    75.0-110.0
Waveguide                          WR-10
Power Output (dBm)       up to 30   note: please consult factory for higher power
Waveguide Flange            UG-387/U-M
Dimensions                         4.0″ L x 3.0″ W x 1.57″ H
Description:
Mi-Wave's 957 Series Phase Locked Oscillators uses fixed frequency low noise synthesizer technology. These oscillators use an external reference from 1MHz to 600MHz and frequency outputs from 100MHz to 110GHz.
Both coaxial and waveguide versions available. Internal crystal references are available on request.
Features
TTL Phase Lock Indicator Alarm
Phase Lock Indicator L.E.D
Applications
Transmitters and Receivers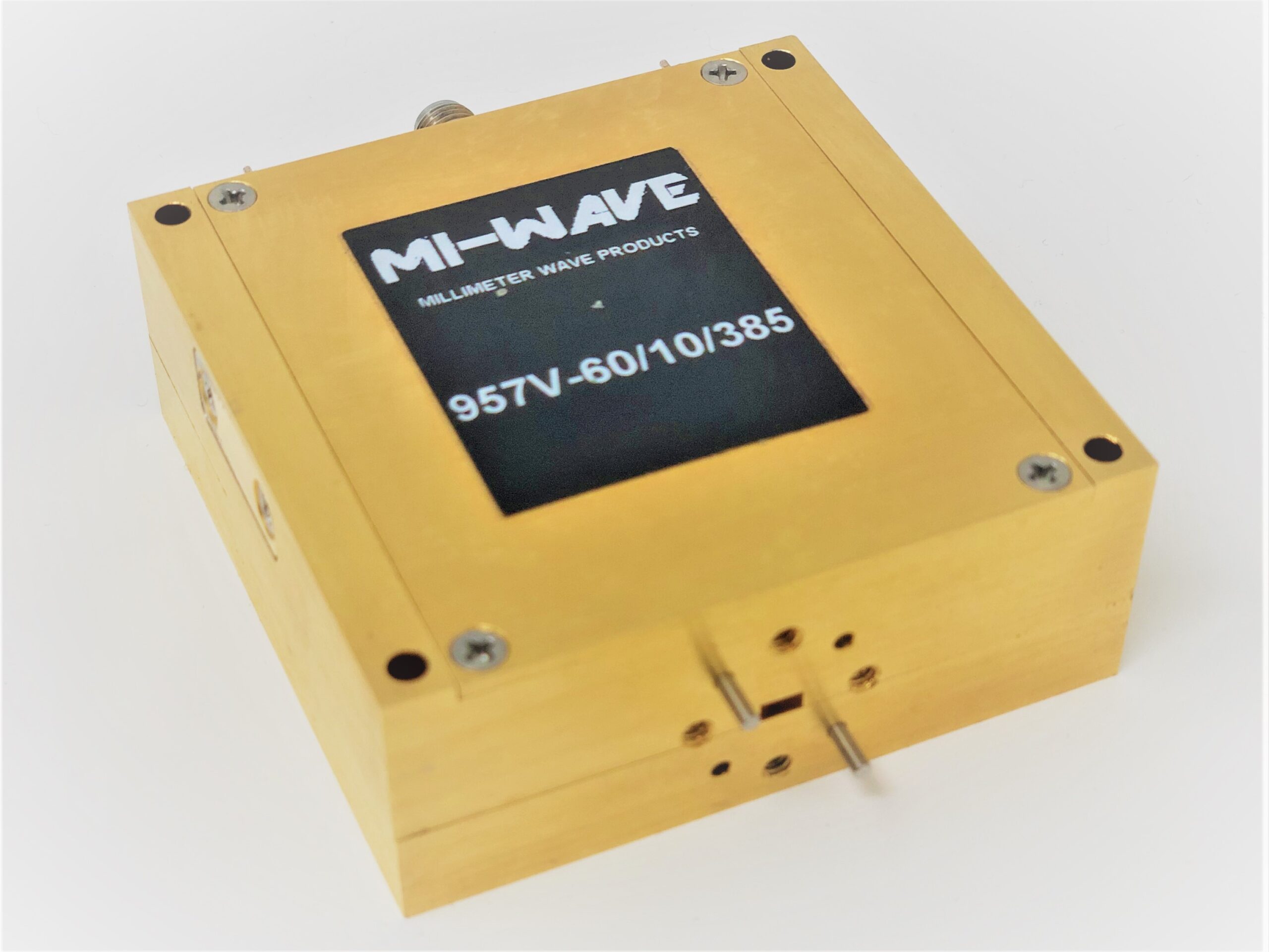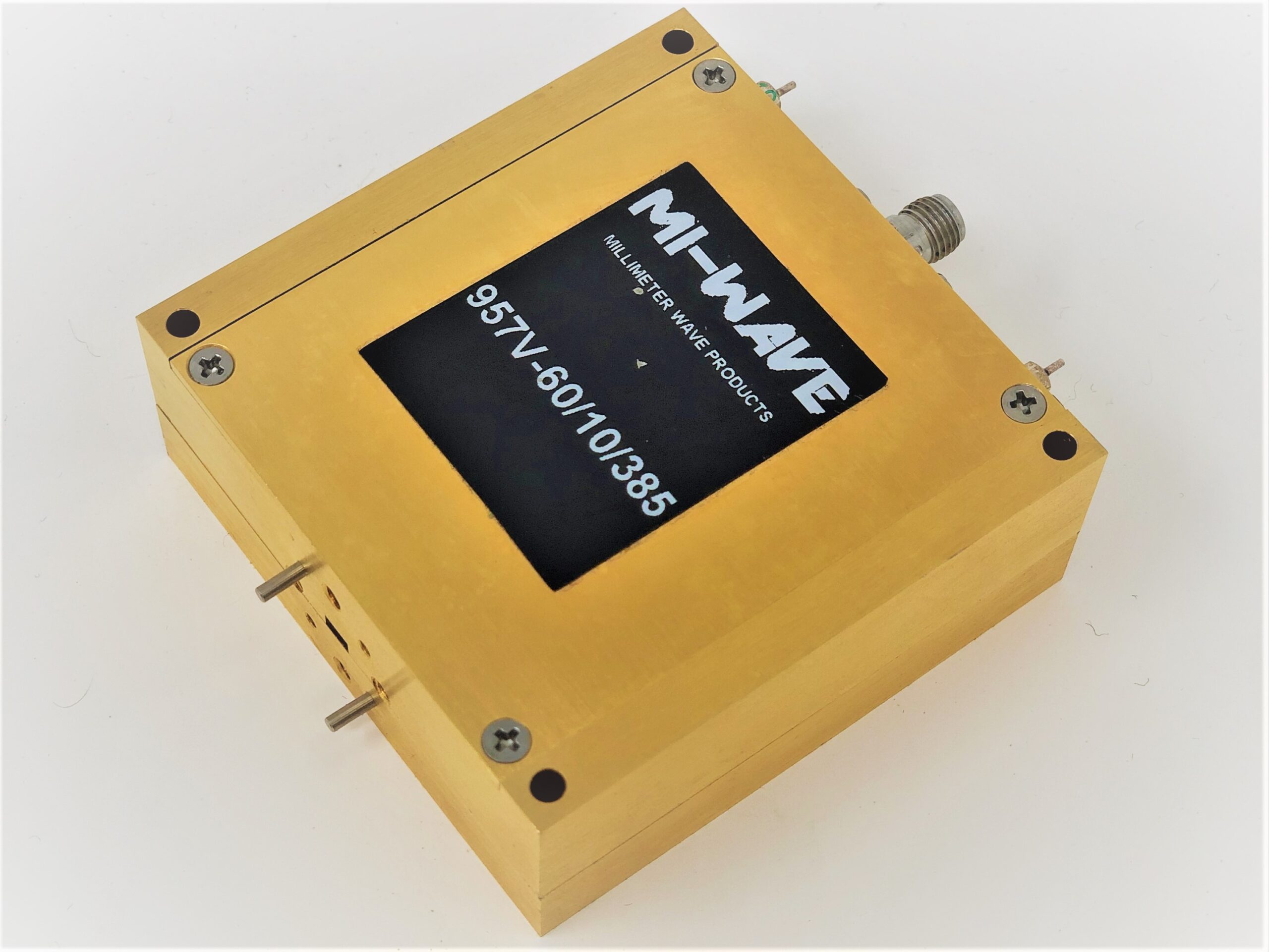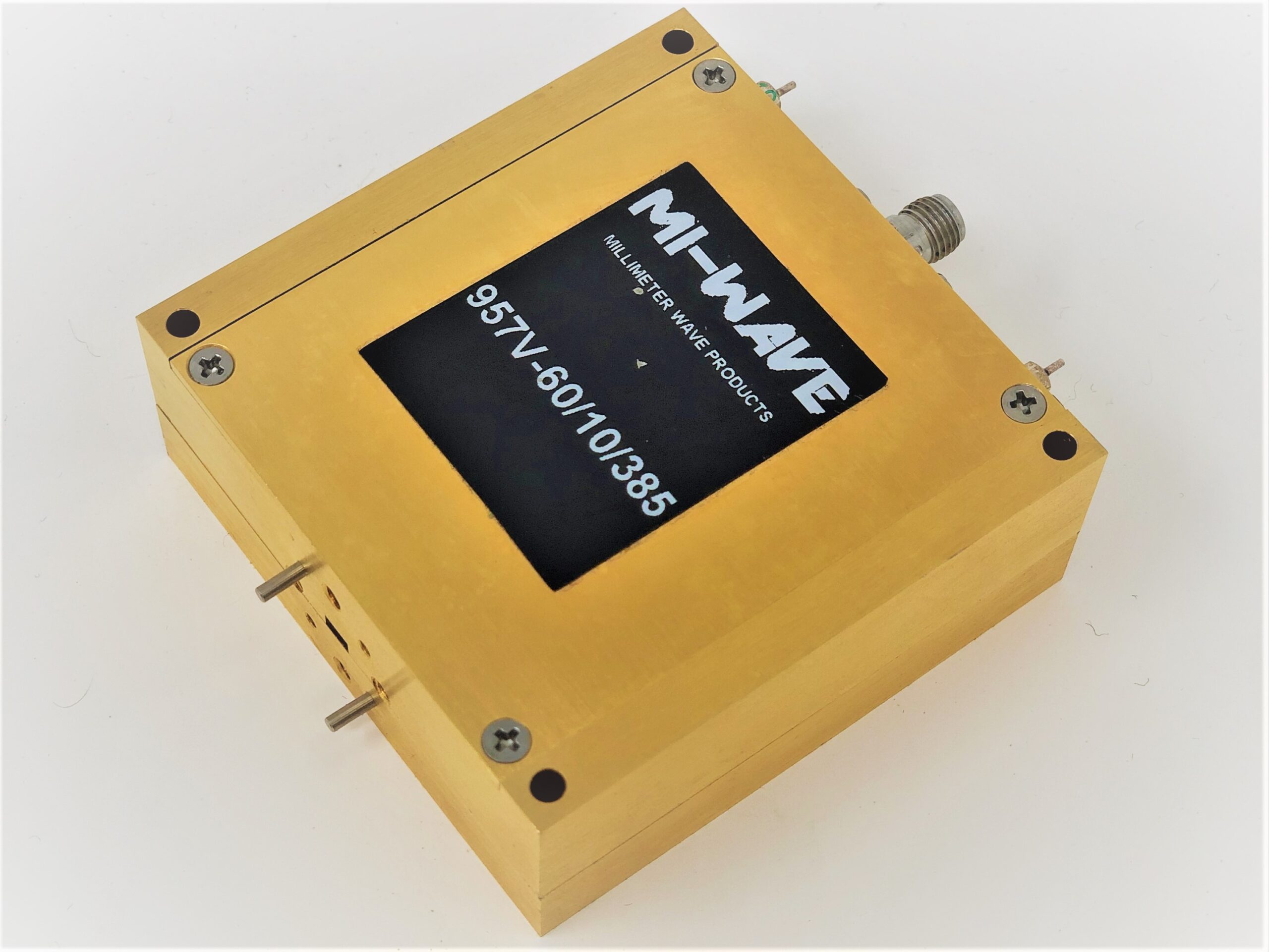 *All data presented is collected from a sample lot.
* Actual data may vary unit to unit, slightly.
*All testing was performed under +25 °C case temperature.
*Consult factory to confirm if material, plating, size, shape, orientation and any electrical parameter is critical for the application as website information is for reference only.
*Millimeter Wave Products, Inc. reserves the right to change the information presented on website without notice as we continue to enhance the performance and design of our products.
957 Series Fixed Phase-Locked Oscillator
Our newly designed Phase locked oscillators (PLO) utilize state-of-the-art circuits and parts to deliver the best quality in generating high-quality frequencies.
Reference Input is 1 to 600 MHz with a Frequency Output of 100 MHz to 110 GHz. The Output Port comes in at +13 dBm (typical) and the Harmonics rate at -30 dBc typical. Spurious is -60 dBc typical and the PLO operating  temperature range is -20º to +50ºC. The Operating Voltage is +8 to +15 with a VDC Lock Time of 3ms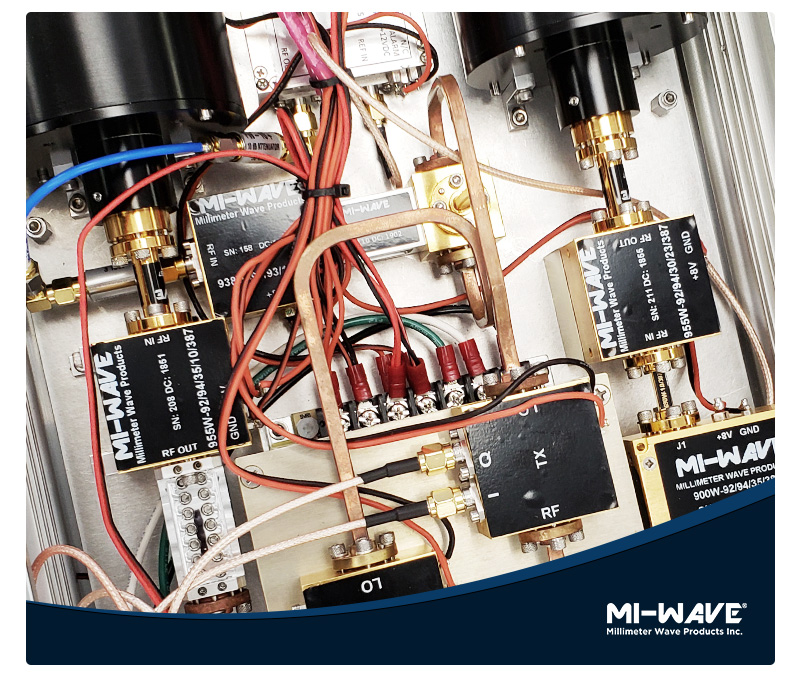 Sales & Quoting
As the manufacturing source, we have top sales engineers ready to answer all your questions and quote you on product needs. You'll find our prices are some of the best since we manufacture all our millimeter wave products in house.
Have a custom job or unique need? No problem!
Contact us so we can work on solutions to meet your needs.
2007 Gandy Blvd N
Suite 1310
St. Petersburg, FL 33702
Tel: 727-563-0034
Fax: 727-563-0031
Email: [email protected]