Description:
Mi-Wave's 535 Series waveguide switches consists of a waveguide switch selection similar to the 530 switch and a rotary motor encased in a machined housing. These switches are used in application that require remote-controlled or timed transmission line switching. They are particularly useful in operational systems and test setups where they supply variety of switching combinations.
Other frequencies available from 8.2–220 GHz
• Low VSWR
• Low Insertion Loss
• Faraday Rotation Devices
• Low Cross-polarization components
• SatComm
• Test & Measurement Labs
• RF Communication
*All data presented is collected from a sample lot.
* Actual data may vary unit to unit, slightly.
*All testing was performed under +25 °C case temperature.
*Consult factory to confirm if material, plating, size, shape, orientation and any electrical parameter is critical for the application as website information is for reference only.
*Millimeter Wave Products, Inc. reserves the right to change the information presented on website without notice as we continue to enhance the performance and design of our products.
Electro-Mechanical RF Waveguide Switch Operation

(1) DURING INITIAL POWER UP OR AT A POWER FAILURE ALWAYS HAVE THE EXTERNAL TTL CONTROL LOW (0 V) OR DISCONNECTED .
(2) SWITCH WILL POWER UP IN POSITION -1 AND IN EXTERNAL CONTROL MODE .
(3) TO SELECT SWITCH POSITION MANUALLY, PRESS MANUAL OPERATION BUTTON ON TOP OF HOUSING ONCE, SWITCH WILL MOVE TO POSITION -2 AND SWITCH WILL GLOW BLUE .
(4) TO SELECT POSITION -1 PRESS MANUAL OPERATION BUTTON AGAIN AND SWITCH WILL MOVE TO POSITION -1 AND BE IN EXTERNAL TTL CONTROL MODE
(5) TO USE SWITCH IN EXTERNAL TTL CONTROL, SWITCH MANUAL OPERATION BUTTON MUST BE SELECTED FOR POSITION -1 AND BLUE LIGHT OFF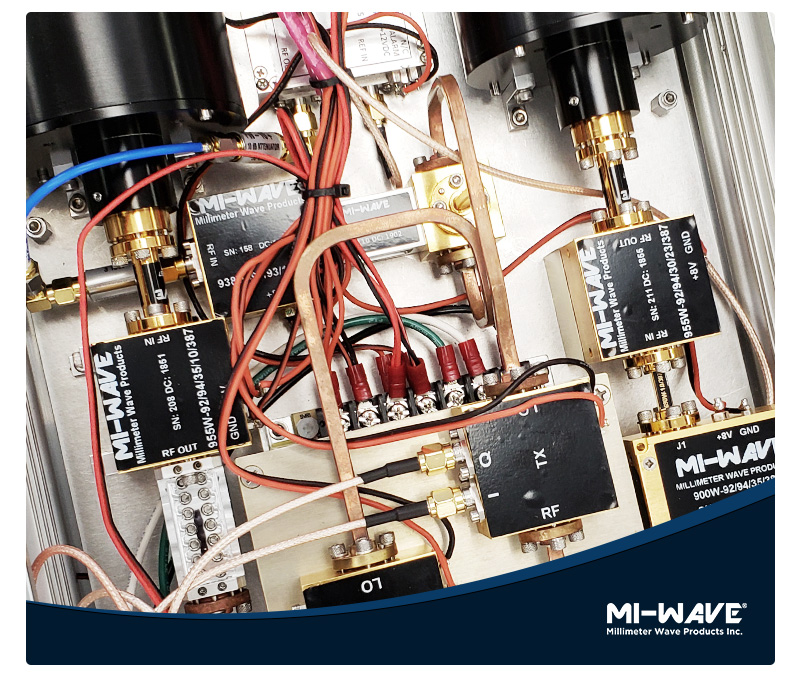 Sales & Quoting
As the manufacturing source, we have top sales engineers ready to answer all your questions and quote you on product needs. You'll find our prices are some of the best since we manufacture all our millimeter wave products in house.
Have a custom job or unique need? No problem!
Contact us so we can work on solutions to meet your needs.
2007 Gandy Blvd N
Suite 1310
St. Petersburg, FL 33702
Tel: 727-563-0034
Fax: 727-563-0031
Email: [email protected]