MODE TRANSITIONS 330 SERIES
Mi-Waves' 330 Series TE01 mode transitions are available for operation from 18.0 to 140.0 GHz. These reciprocal devices have a standard rectangular TE10 mode waveguide input and a circular TE01 mode output. Because of the different frequency ranges of circular TE01 mode waveguide, it is possible for a standard sized rectangular waveguide input to have one of several different circular waveguide size outputs.
The 330 series circular mode waveguide features low VSWR and insertion loss. The flanges used for circular wave-guide output are Mi-Waves' standard male/female type. For maximum mode purity, filtering is recommended for all TE01 propagation
The 330 series rectangular-to-circular waveguide transitions are useful in millimeter wave radar systems or laboratory setups where long transmission lines are required. These transitions will provide efficient conversion from the TE10 rectangular waveguide mode to the TE01 circular waveguide mode for high-power, low-loss transmission.
Mi-Waves' 340 series a critical consideration when using TE01 mode circular waveguide is the preservation of mode purity. Due to the similarities between the TE01 and TM11 modes, even the slightest irregularities in the circular waveguide will cause mode conversion from TE01 to TM11. And the large waveguide diameters will readily propagate TEM1 modes which degrade the purity of the TE01 signal. Extraneous TEM1 and TEMN modes cannot be reconverted to the TE10 rectangular mode – they show up as large spurious losses.
Each 340 series mode filter consists of a section of lossy wall waveguide. Because the higher order modes (TMM1, TEMN) have wall currents, they are sharply attenuated and do not propagate. Although the energy transferred to these modes is minimal, mode filters must be placed periodically along the transmission line. The TE01 mode, which does not have wall currents, passes through this section unaffected. The 340 series mode filters are available in circular waveguide sizes from 12.4 to 140 GHz. They are fitted with one male and one female type of Mi-Waves' standard circular flanges.
The 340 series mode filters are used to prevent TE01 conversion to higher order modes. By attenuating unwanted TEM1 modes, the 340 series filters allow for the low loss transmission of TE01,02 modes in circular waveguide and eliminate unwanted resonances, it is recommended that the 340 series filters be placed at least every 10 feet in long.
Mi-Waves' 355 series rotary joints are available in standard circular waveguide sizes from 11.6 to 150 GHz. Each rotary joint consists of two circular waveguide sections mounted on ball bearings. Connections to the guides are made at standard male and female circular flanges. Precise alignment of the waveguide sections prevents spurious mode generation, and the very small gap between abutting surfaces contributes a negligible loss in the TE01 circular mode. In all models, amplitude variation with rotation is less than 0.2 dB and phase variation is less than 2 degrees.
The 355 series rotary joints provide efficient energy transfer in radar antenna systems or in other applications requiring relative rotation between two sections of waveguide. Designed for low phase variation, low insertion loss, and low wow, they are also useful in special laboratory test set-ups for the measurement of millimeter wave parameters including phase variation in radiated fields. Operating in the low-loss TE01 circular mode, these rotary joints are designed for use in circular waveguide transmission lines.
FLANGED/UNFLANGED CIRCULAR WAVEGUIDES 370-371 SERIES
Mi-Waves' 370 series flanged waveguide and 371 series unflanged waveguide is available in standard sizes from 12.6 to 320 GHz. The 370 series waveguide sections are fitted with Mi-Waves' standard male/female flanges. Both waveguide types are manufactured primarily in copper.
Mi-Wave recommends using the 340 series mode filters in any circular waveguide system to maintain mode purity.
Please Note: Due to the non-standardization of this product line, we recommend that you contact Mi-Wave
for more specific information about your requirements.
COMPACT ROTARY JOINTS 356 SERIES- NEW PRODUCT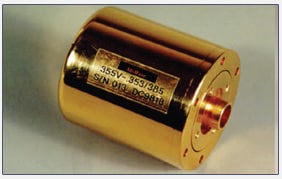 Information of Mi-Waves' 356 Series Compact Rotary Joints are coming soon. If you have any questions on this or any product feel free to give us a call.
Please Note: Due to the non-standardization of this product line, we recommend that you contact Mi-Wave for more specific information about your requirements.
Return to Main Products Page