Waveguide Stands
Description:
Mi-Wave offers 2 types of waveguide stands, adjustable clamp type and criss cross type. 695 model consists of an adjustable clamp mounted on an adjustable height rugged base stand. The unique waveguide clamp may be readily adjusted to fit the clamping jaws to particular waveguide sizes or orientations. The cast stand has a large base area to prevent moving or tipping under normal test bench conditions. For further stability, the base may be secured to the bench with mounting bolts. 
695-4, 695-6 and 695-8 models are crisscross type mini jack that provides an adjustable support solution in laboratory environments.
The mini jack is especially helpful when setting up bench top test sets or module testing systems.
Features: 
Rugged configuration
Quick and smooth one knob adjustment
Instrumentation grade 
695 model Clamp Rigidly Secures Waveguide with Single Thumbscrew 
 
Applications: 
Lab apparatus support 
Test setup support
Waveguide system support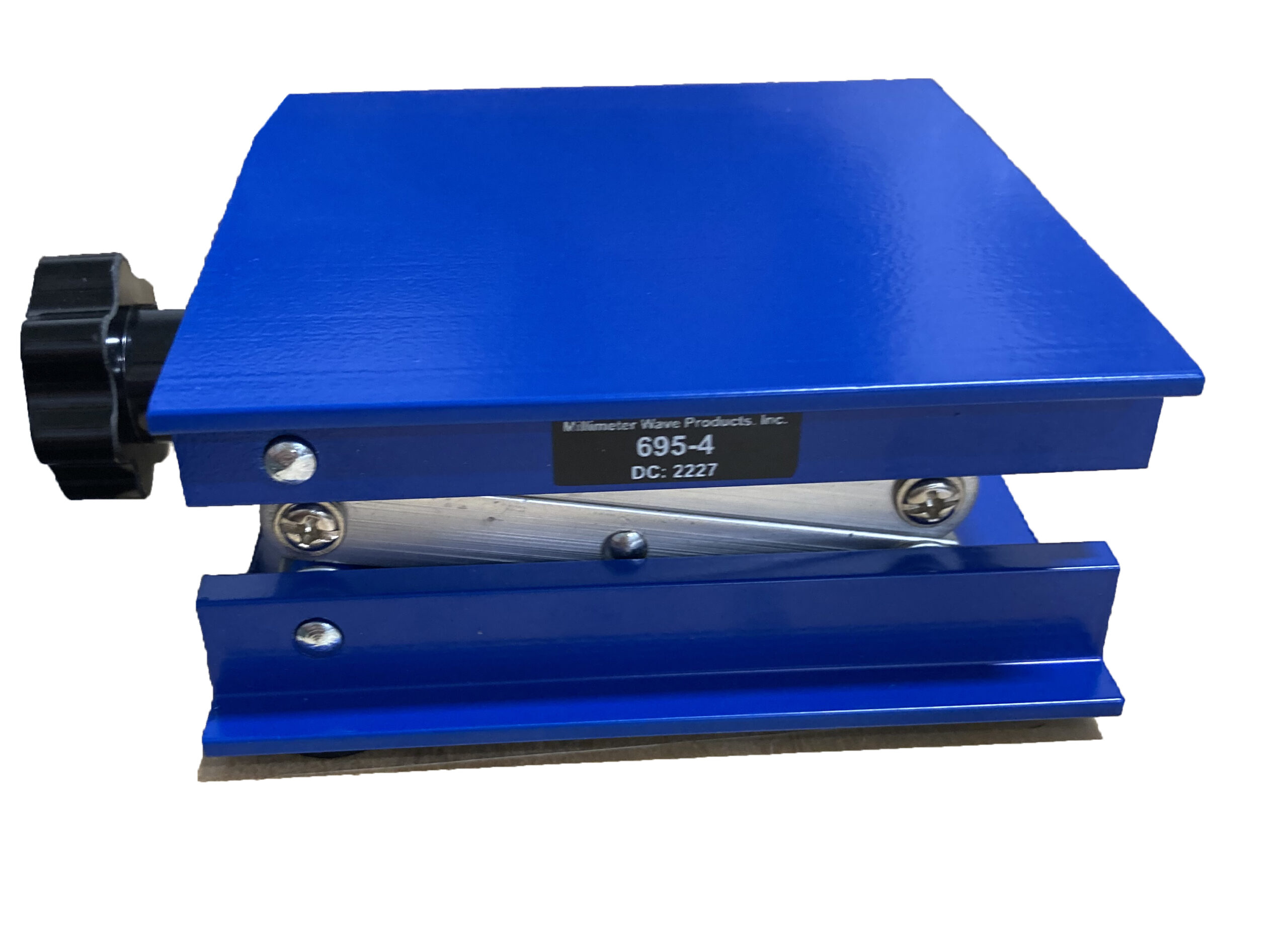 Note: Our website contains just a few types of  Terminaions we build. Consult with us for your specific needs.
| Model | Configuration | Base Dimension | Adjustable Height | Weight Capacity | Link |
| --- | --- | --- | --- | --- | --- |
| 695 | Adjustable clamp mounted on adjustable height | 3 Inches Diameter | 1.19" to 2.01" | | |
| 695-4 | Criss-Cross Type | 4 x 4 Inches (101.6 x 101.6 mm) | 1.7" to 7" (43.18 to177.8 mm) | 22 lbs. (10 Kg) | |
| 695-6 | Criss-Cross Type | 6 x 6 Inches (152.4 x 152.4mm) | 2.2" to 9.8" (50.8 to 248.9mm) | 55 lbs. (25 Kg) | |
| 695-8 | Criss-Cross Type | 8 x 8 Inches (203.2mm x 203.2mm) | 2.4" to 12.3" (60mm to 312.42mm) | 110 lbs. (50 Kg) | |