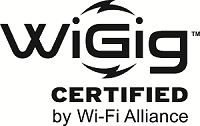 WiGig is nearly ready for primetime as evidenced by the Wi-Fi Alliance's new certification program, aimed at validating interoperability for WiGig products. The certification brand will be designated with a new logo that consumers can look for to ensure they are buying interoperable WiGig products, which are expected to start hitting the market in 2014.
In addition, the alliance recently transferred the WiGig Serial Extension Specification to the USB Implementers Forum (USB-IF), so anything now connected by a wired USB can in the future be linked wirelessly via WiGig. The Wi-Fi Alliance also entered a liaison agreement with the Video Electronics Standards Assocation (VESA), enabling the groups to work jointly on WiGig-enabled display port solutions for connecting connect PCs and handhelds to monitors, projectors and HDTVs.
"These are milestones on our path toward WiGig becoming a widely available solution for consumer electronics and handsets," Kelly Davis-Fellner, the Wi-Fi Alliance's marketing and program management director, told FierceBroadbandWireless.
She said the Wi-Fi Alliance, which has now fully integrated the WiGig Alliance under a merger agreement announced in January 2013, is already running early-stage WiGig plug-fests.
"It takes a fair number of plug-fests to get to a test bed that's populated with products from multiple vendors," she said. "We'll be on a fairly regular cadence of plug-fest events now through potentially the middle of next year at least as the solutions start to mature."
WiGig operates in the unlicensed 60 GHz band and offers short-range multi-gigabit connections with speeds up to 7 Gbps. Many products certified for interoperable WiGig operation will be equipped with Wi-Fi, enabling seamless handover between the two technologies, said the Wi-Fi Alliance.
WiGig is being eyed by some as a potential tool for small cell backhaul. Davis-Fellner said promoting that use is not a focus for the Wi-Fi Alliance at this point, but she added that WiGig "is a pipe, and you can do lots of different things with a pipe."
For more:
Written by September 8, 2013 |  Tammy Parker
Read more: WiGig certification program debuts – FierceWirelessTech http://www.fiercewireless.com/tech/story/wigig-certification-program-debuts/2013-09-08#ixzz2ikl45JAL