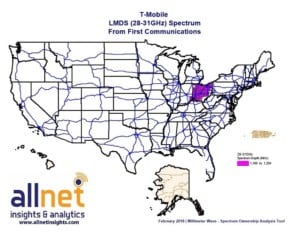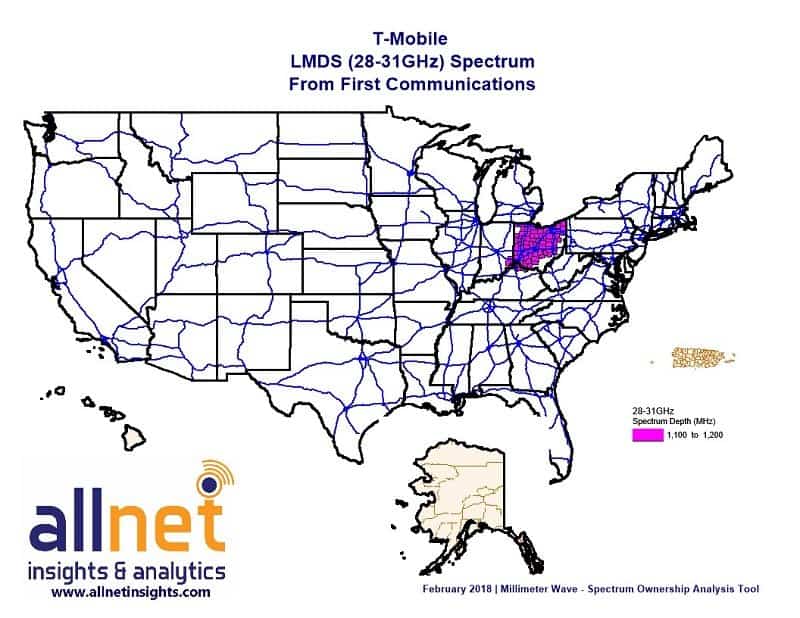 T-Mobile has agreed to buy 1150 MHz of LMDS spectrum (28-31GHz) in Ohio to expand it's 5G coverage and capability.
The allocation of spectrum will enable T-Mobile to deploy the 27500 to 28350 MHz portion for next generational 5G mobile services. In there FCC application they state:  "Further, coordination between the Parties will allow T-Mobile to make immediate use of the remaining 29100 to 29250 and 31075 to 31225 MHz portions of the Licenses for microwave backhaul."
The purchase, now pending before the FCC, is notable considering T-Mobile has only a handful of millimeter-wave spectrum licenses compared with AT&T and Verizon. T-Mobile itself plans to build a nationwide mobile 5G network by 2020 using a range of spectrum bands including its 600 MHz. A T-Mobile spokesperson wasn't able to immediately provide details on the carrier's purchase of 1150 MHz of LMDS spectrum in Ohio, including how much it paid for the spectrum.
Indeed, T-Mobile's pursuit of millimeter-wave spectrum stands a bit in contrast to its public statements about the usefulness of those bands.
"T-Mobile expects to deploy 5G in its low-band 600 MHz spectrum quickly across its existing nationwide macro network, in contrast with the [other] carriers' millimeter wave spectrum plans, which would require a number of small cells so massive that providing broad coverage would be impossible," the carrier said in announcing its nationwide 5G plans in May of last year.
Now, though, T-Mobile is making clear its desire for millimeter-wave bands. For example, the carrier last month called for the FCC to "immediately initiate" proceedings for an auction of millimeter-wave spectrum bands ranging from 24 GHz to 48 GHz starting this year.
Interestingly, though, the operator may not really want those licenses at all.
"T-Mobile only has 200MHz or more LMDS spectrum in 9 of the Top 25 CMA markets," explained Brian Goemmer, president of AllNet Insights & Analytics. Goemmer's firm carefully tracks ownership of the nation's spectrum licenses. "I don't think that T-Mobile will be able to acquire LMDS spectrum in any of the remaining Top 25 markets because Verizon holds virtually of the LMDS spectrum in those markets. None of the Top 25 markets have spectrum that the FCC controls. I would imagine that T-Mobile trades the First Communications spectrum for some of Verizon's 39GHz spectrum. Ideally, T-Mobile would have a single frequency band to design their network and devices around, and unless they can pry spectrum from Verizon in the largest U.S. markets, they will likely look toward the 39GHz band."
Wells Fargo analyst Jennifer M. Fritzsche offered further insight into T-Mobile's latest spectrum deal.
"Prior to this deal—TMUS had some small amount of this spectrum (200MHz) covering 100MM POPs … this deal over 4x that amount (but covering only one state)," she wrote. "What is most interesting about this is TMUS has been talking about its low-band spectrum strategy at the 600MHz level A LOT. But as we are all looking that way—maybe they are doing a lot more than we all realize at the very high band level."
Added Fritzsche: "While we are only talking about the Buckeye state—it is something to watch for sure … especially because this company who likes to talk a lot—is not talking about their high band spectrum strategy … and there may just be one building behind the magenta curtain!"