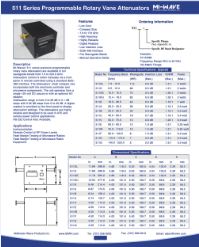 As the need for millimeter wave products rise, the need for quality equipment to perform precision tests and measurement results will be needed. Millimeter Wave Products Inc, offers one of the world's highest quality attenuators that can help engineers perform fade margin test, attenuation tests and more.
Mi-Waves' 511 series precision programmable rotary vane attenuators are available in full waveguide bands from 5.0 to 220.0 GHz. Attenuation control is done either manually via a front panel or remote controlled using a standard IEEE- 488 interface. The attenuator's small compact size incorporates both the electronic controller and microwave components. The unit operates from a single +24 volt DC source or with an optional AC adapter.
Attenuation range is from 0 to 60 dB in 0.1 dB steps with 0.05 dB steps from 0 to 20 dB. A digital
readout is provided on the front panel to display attenuation settings. The attenuators are highly reliable and designed to be used in ATE and remote power control applications.
RS-232 Control Also Available.
Applications
• Instrumentation
• Remote Control of RF Power Levels
• Fade Margin Testing of Microwave Radios
• Equipment.
Advantages
• Compact Size
• 5.0 to 220 GHz
• High Accuracy
• Highly Reliable
• Digital Readout
• Low Insertion Loss
• IEEE-488 Interface
• Full Waveguide Bands
• Manual Operation Mode