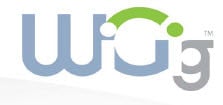 A new wireless standard promising blazing speeds over short distances was recently adopted by the IEEE, known as 802.11ad. The ratified standard will deliver 7Gbit/s speeds over 60GHz frequencies and will start appearing in consumer electronics as soon as next year. In case you're wondering, WiGig is the consumer-friendly marketing name which will encompass 802.11ad and future revisions.
Dell already announced a WiGig compliant Latitude 6430u Ultrabook . Additionally, chip makers like Marvell, Qualcomm and Atheros are all working on chip implementations, some of which pack 802.11ac and 802.11ad capabilities into a single module. These chips will grant devices simultaneous access to 2.4-5GHz and 60GHz bands and will offer dual and even tri-band compatibility.
802.11ad operates at 60GHz frequency (millimeter waves). Which make it incredibly fast but unable to penetrate solid objects like walls, desks and bookcases.  Where it does make up for that is in it's super high bandwidth capabilities.
While the 2.4GHz and 5GHz signals doled out by 802.11g/n and 802.11ac may provide reasonable coverage for your entire dwelling, it's unlikely 60GHz and higher frequencies will ever become an adequate substitute. However, for line-of-sight or short distance transmission applications, 60GHz offers tremendous performance potential. Imagine transferring your entire hard drive wirelessly in 10 seconds or less!
As companies, engineers and the world venture into the 60GHz world, the innovation will sure follow.
According to ABI Research 60GHz Enabled Device Shipments will exceed 1 Billion Units per Year
"Market growth is expected to be slow for the next 2 years with ultrabooks and peripherals being the initial primary market, driven by the need for ultra-fast data transfer for docking and display applications," commented Peter Cooney, wireless connectivity practice director. "Media tablets are expected to be the next market to embrace the technology, primarily for media streaming. We expect a significant amount of consolidation in the market over the next 18 months as the 11ad market starts to take off," added Cooney. "In some instances, smaller 60GHz technology focused companies will be swallowed up by the dominant wireless connectivity suppliers, others will be driven out of the market or at least into the margins as 11ad becomes an established technology, but without a push from the big guys the market will fail to gain traction."
These findings come from a new study titled "60GHz Technology, 11ad Driving Market Growth" which is part of ABI Research's Wi-FiResearch Service.
View the following video for a great overview of WiGig (created by the WiGig Alliance)