Millimeter Wave Anechoic Test Chamber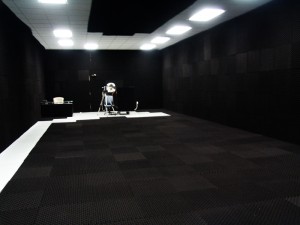 Millimeter Wave Products Inc. of Largo, Florida (MIWV.com) has just opened their new anechoic chamber for advanced millimeter wave testing. The new 65 x 20 foot room, insulated from exterior noise sources, is designed to test for millimeter wave and microwave frequencies.
The sealed environment is lined with special absorbing material that helps radio technicians test and measure results for equipment specifically in the millimeter wave spectrum that are configured for the 8GHz to 320GHz spectrum.
"It's one of the few anechoic test chambers that allow testing solely for millimeter wave signals," explains company president Mark Smith. "Most anechoic chambers are created for cell phone testing, like you see at Apple Inc. but our chamber which is coated for millimeter wave and microwave signals, has a longer dimension of 65 feet that lets us test bigger antennas as well. Not all Anechoic chambers are the same, the design of the material helps isolate certain radio frequencies, and in our case, it's designed for targeting the millimeter wave frequency range. We want to provide our clients with test results that give them the absolute best quality product and this chamber is one of the things we have in place that separates us from other millimeter wave components providers throughout the world."
Senior Lab Technician Gary Ricker shows off some special antennas that are currently under testing. "This room lets us test equipment, components and radically designed systems for customers from all over the world. From simple antennas to military designed applications."
The room will also be made available to the public. Millimeter Wave Products Inc, plans to lease the room per day or per week to commercial, government or education institutions as well as research labs. As the knowledge of millimeter wave technologies expands, the room will be a great resource to continue testing and pushing the limits of technologies in the millimeter wave spectrum.
Millimeter Wave technology has been around for the past 30-50 years, but only in the last few years has it made serious advances. People are now finding this technology anywhere from cell backhaul communications, radar, medicine to rocket propulsion systems. Visit www.MIWV.com for more details and information about millimeter wave technology.