Description:
Mi-Waves 955 Series Power Amplifiers are your perfect choice. If you are needing frequency values for a 40 GHz power amplifier, then contact us today with your request needs. We supply stock as well as custom rf amplifiers to fit your needs.
Our custom production, advanced engineering and customer service allow us to help serve your needs. We offer a wide variety of frequency ranges, bandwidths, gain and power outputs. Please consult Mi-Wave for technical specifications and outline drawings.
Our website contains just a few types of 40 ghz power amplifiers we build. Consult with us for your specific needs.
Features
• High Output Power
• High Gain
• Broadband
• Unconditionally Stable
• Regulated Supply & Bias Sequencing
Applications
• 5G & 6G
• Test & Measurement
• Mobile & Satellite Communications
• Radar Systems
• Weather & Earth Observation
40 GHz Power Amplifier
If you are looking for  40 GHz power amplifiers then you've come to the right place. At Millimeter wave products Inc. (Mi-Wave) we specialize in manufacturing the highest quality mmWave products for many needs. RF Amplifiers are just the start of many needs we are capable of.
Mi-Wave's  40 GHz power amplifiers are fabricated with very close tolerances to ensure the precision of every amplifier manufactured by Mi-Wave.
Note: Our website contains just a few of the type of RF amplifiers we build. Consult with us for your specific needs.
40 GHz Power Amplifier Frequency Band
The "high band" spectrum where wireless operators are deploying 5G is in the millimeter wave spectrum. This is very high on the spectrum chart in the 24 GHz band and higher. The GSMA recommends that operators support millimeter wave spectrum in the 26 GHz, 40 GHz, 50 GHz and 66 GHz bands for mobile services.
5G specifications like the N259, 42 GHz band is currently the highest-defined frequency 5G band in the FR2 range. Development of this band is ongoing and is headed up by the 3GPP TR 38.815. Like all millimeter wave bands, N259 is intended for short range tx/rx at high data rates.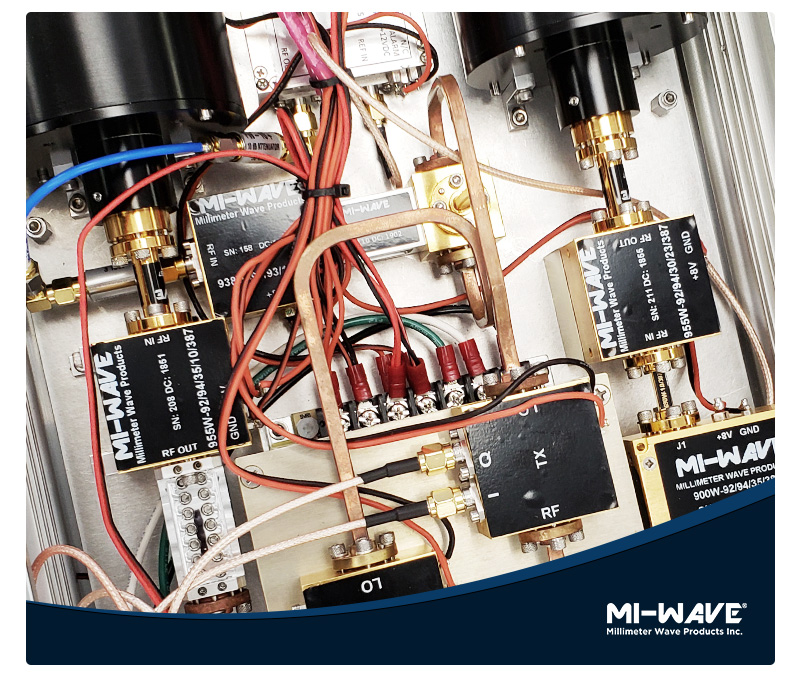 Sales & Quoting
As the manufacturing source, we have top sales engineers ready to answer all your questions and quote you on product needs. You'll find our prices are some of the best since we manufacture all our millimeter wave products in house.
Have a custom job or unique need? No problem!
Contact us so we can work on solutions to meet your needs.
2007 Gandy Blvd N
Suite 1310
St. Petersburg, FL 33702
Tel: 727-563-0034
Fax: 727-563-0031
Email: [email protected]