Junk email options in Outlook 2010
Hello everyone. Once in a blue we get users who don't receive our pdf attachments or emails. Depending on your setup you may have to add rules or adjust settings. These settings may be able to help and(or) you can see what is available in Outlook at user levels to help alleviate incoming senders emails sent straight to spam.
Outlook 2010 has individual settings you can configure for junk email filtering. If you find that not enough or too many messages are being sent to your Junk email folder, you can easily adjust these settings to instantly resolve any filtering issues.
The Junk email folder will appear in the left-most column under your list of all mail folders. If you have any junk messages, this folder will appear in bold with a number in parenthesis to its right indicating the total number of messages. Simply click on the Junk folder to view these messages. To permanently delete them, select the Delete icon in the upper left of the Outlook Home tab while viewing an individual email, or right-click on the Junk folder and select Empty folder from the menu that appears.
1. While viewing your Outlook Mail, make sure the Home tab is selected. Click on the Junk icon to the upper left.
The first options in the Junk drop down menu reference the specific message that is selected in your mail Outlook window. For quick Junk filtering, select any of the following:
Block Sender – automatically put any email from the sender's address into your Junk E-mail folder.
Never Block Sender – messages where the sender's email address is in the From field will never be identified as Junk E-mail.
Never Block Sender's Domain (@example.com) – any messages from that same domain (typically an organization or company such as @nyc.gov, @staples.com, @harvard.edu), will not be filtered as Junk E-mail.
Never Block this Group or Mailing List – messages that use a distribution list may have the email address in the To, Cc or Bcc fields of the email you receive. In this case you would add them to the Safe Recipients List to ensure that messages aren't filtered as junk mail.
Junk icon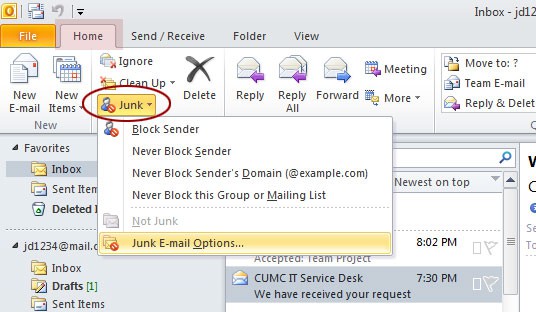 2. To configure global filtering, select Junk E-Mail Options… from the bottom of the Junk drop down menu. Make sure the Options tab is selected in the window that appears. If you are finding that too many messages are filtered as junk, select the top option of No Automatic Filtering.
Junk E-Mail Options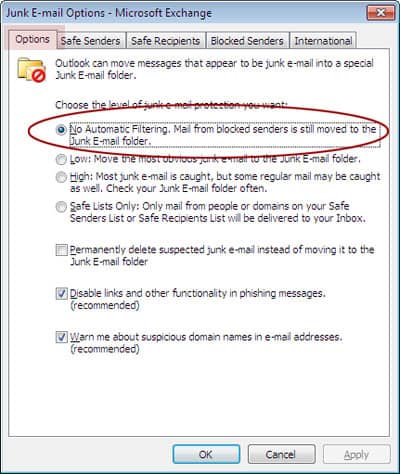 3. Select the Apply button in the lower right to save any changes, then OK to return to Outlook. Outlook will now only send messages that have been put on your Blocked Senders list to the Junk E-Mail folder.
If you find that you are receiving a lot of junk mail in your Inbox, you may want to select Low or High in the Junk E-mail Options window instead – however you will have to check your Junk E-Mail folder regularly to make sure messages you do want are received.
The Safe Senders, Safe Recipients and Blocked Senders tabs at the top of the Junk E-Mail Options window allow you to view and manage any addresses that have been added to these lists for filtering.
For further information about Outlook and Junk E-mail filtering, please see Microsoft's Outlook 2010 Help and How-to for Junk e-mail.
Why do I have to create special rules or allow your domain in the first place?
Microsoft by default has pre-configured outlook to look for certain behavior traits or access live spam directory listings to flag emails that are known to spam. Unfortunately, Outlook/Exchange is not sophisticated enough to determine the root senders and behaviors individually and will just sweep anyone who falls under certain guidelines into the spam box. Rather being safe than sorry is their approach and rely on local level users or administrators to configure settings or 3rd party spam software.
It's one of the main reasons they are slowly moving to cloud based systems like Office365 or hosted exchange services where they, or companies who are paid to administer email, constantly regulate and adjust settings, security and spam issues.
In the world of I.T., the days of buying and maintaining physical hardware on site, exchange servers, updating definitions, licenses, etc… are the old model of operations. For Microsoft, the Hardware/Software gravy train brings in lots of money, so don't expect an overnight shift to cloud based solutions that will mean less money for them.
You may want to consider moving to Cloud based systems that run on Google's, Amazon or Azure datacenter platforms. Your end users will experience less issues, you'll save more money as a company, and your I.T. personnel can move to innovating technology instead of maintaining it all day.
-Brian Galvan